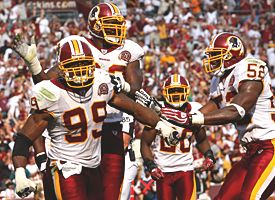 Skins Take will finally conclude our three part series based on the top three concerned areas headed into the 2010 season. We are over a month away until training camp and three months until the season starts. So a lot can happen overtime. Part 3 focuses on the defense.
Over the past few seasons, the defense has been one of the strengths for the Redskins. Since 2004, the defense has been ranked in the top ten in five of the past six seasons. Despite that, the defense hasn't had a impact player since the late Sean Taylor, and it been inadequate in the 4th quarter. Some redskin haters think that the defense is overrated, and it can't get key stops when needed. This has been true especially in the last three years due to a lack of scheme changes from defensive coordinators Gregg Williams and Greg Blache.
Today, Williams is part of the Super Bowl champion New Orleans Saints and Blache is apparently retired. While 2010 marks a new era for Redskins football, 2010 will be remembered as the return to the 3-4 defense. Coach Mike Shanahan hired Jim Haslett to be the defensive coordinator. Haslett ran the 3-4 defense with the St Louis Rams a few years ago.
As for the Redskins personnel on defense, they have enough players to adapt to the 3-4, except one player; Albert Haynesworth. Over the past three months, I have been ranting on Haynesworth because of his laziness on showing up to optional offseason workouts. The team has tried on trade him on numerous occasions, but it has failed because other teams don't want to inherit his big contract.
Should Haynesworth stay as a redskin, he will be a major contributor to the 3-4 scheme, one of his main weakness as a nose tackle.
Yahoo Sports
describes how Haynesworth can fit under Haslett's 3-4 system. However, if the Redskins somehow trade Haynesworth, they are prepared to move on. The team sign seven veteran defensive linemen that are familiar with the 3-4. Here is the list of the acquisitions.

NT Anthony Bryant

DE Adam Carriker
NT Howard Green
DE Vonnie Holiday
DE Trey Jacobs
NT Ma'ake Kemoeatu
DE Gregg Peterson
DE Darrion Scott
Most of these players will be competing for a starting or reserve spot at the defensive line, and most of them could be cut after the preseason. Shanahan is keeping his word on competition on every position. Either way, the Redskins have enough depth at the D-Line should Haynesworth is departed and any injuries occur to the starters.

The linebacker position provides two key players. Second year player Brian Orakpo started as a outside linebacker last season, and he still had 11 sacks. Even if he was playing out of position Orakpo got a year of experience by switching to linebacker. Look for Orakpo to stay at OLB this season and continue to put pressure the quarterback.
London Fletcher will enter his 12th NFL season this fall, and at age 35 he is still of the hardest working and most knowledgeable player in the league. The fact he has not miss an NFL game in his career speaks for itself. Andre Carter, Rocky Mcintosh (who
signed his tender offer
today), and H.B Blades are expected to contribute in the inside linebacker spot as well.
Chris Horton will be back at free safety after recovering from his season ending left toe injury. This could mean that Laron Laundry will return at strong safety despite some reports that he'll play linebacker this season. Veteran Phillip Buchanon joins De-Angleo Hall and Carlos Rogers at the cornerback slot.
But like most positions for the Redskins, staying healthy will be a major key due to the lack of depth at linebacker, safety, and cornerback. Late last season, the Redskins defense struggled against the pass because of key injuries in these areas.
What you think about the Redskins plans to switch to the 3-4 defense? Is it possible that Hanyesworth can be traded before week 1? Is the defense improved from last season? And how much of a impact Jim Haslett brings to the defense?