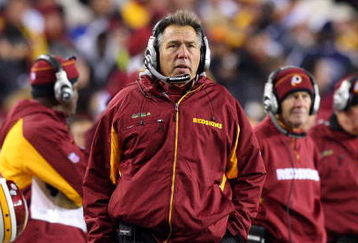 Alright, the preseason is finally over, and now the real fun begins. This Sunday, the Washington Redskins opened the 2009 season on the road versus the New York Giants. Most of the national media has the redskins going 8-8 or worse, but some have them being a sleeper team or a
super bowl team believe it or not.
As the season inches closer let's take a look at the schedule, some of the biggest story lines this season, and my predictions for the regular season (IN BOLD) as well.
Week 1 @ New York Giants; Sunday, September 13 - 4:15 p.m. -

L 23-20
Week 2 vs. St. Louis Rams; Sunday, September 20 - 1:00 p.m.

W: 28-6
Week 3 @ Detroit Lions; Sunday, September 27 - 1:00 p.m.

W:24-10
Week 4 vs. Tampa Bay Buccaneers; Sunday, October 4 - 1:00 p.m.

W: 24-17
Week 5 @ Carolina Panthers; Sunday, October 11 - 1:00 p.m.

L: 26-24
Week 6 vs. Kansas City Chiefs; Sunday, October 18 - 1:00 p.m.

W:20-17
Week 7 vs. Philadelphia Eagles; Monday, October 26 - 8:30 p.m.

W: 13-10
Week 8 BYE WEEK
Week 9 @ Atlanta Falcons; Sunday, November 8 - 1:00 p.m.
L: 23-16
Week 10 vs. Denver Broncos; Sunday, November 15 - 1:00 p.m.

W: 28-13
Week 11 @ Dallas Cowboys; Sunday, November 22 - 1:00 p.m.

W: 24-21
Week 12 @ Philadelphia Eagles; Sunday, November 29 - 1:00 p.m.
L: 24-13
Week 13 vs. New Orleans Saints; Sunday, December 6 - 1:00 p.m.

L: 24-21
Week 14 @ Oakland Raiders; Sunday, December 13 - 4:00 p.m.

L: 27-24
Week 15 vs. New York Giants; Monday, December 21 - 8:30 p.m.
L: 23-10
Week 16 vs Dallas Cowboys; Sunday, December 27 - 8:20 p.m. :

W: 21-17
Week 17 @ San Diego Chargers; Sunday, January 3 - 4:15 p.m.

L: 25-22
So based on the schedule, I have them going 8-8. They are losses that I predict that could easily translate to wins such as @Oakland, vs New Orleans, and @ Carolina. But this team is never consistent every week during the Daniel Snyder regime, and if last season was any indication, the Redskins could be in a second half meltdown this year again.
The good news is that the skins have a favorable schedule after week one. The bad news is that the wide receiving core is young, but unproven, the Offensive Line is aging and we could easily see some several key injuries in that area. This will lead to Jason Campbell being sacked more often, and Clinton Portis struggling to find holes in the run game. If the O-Line stays healthy, and Malcolm Kelly steps up this season, look for Campbell and Portis to have a breakout season.
As for the defense, I think its a gonna take a step back despite signing Albert Haynesworth. The defense never gets a stop when needed most in the 4th quarter, and they do not score points off turnovers. They play well for like 45 minutes, and collapse in the final 15. If the Redskins can play a full 60 minute game on defense, and score points on defense, then this team will become a playoff dark horse in the NFC.
Storylines

Head Coach Jim Zorn on the hot seat
: It's now or never for coach Zorn. A playoff appearance and possibly a postseason win will save Zorn's job in DC next season.
Quarterback Jason Campbell:
Campbell handled the Jay Cutler and Mark Sanchez trade rumors very well. But he has to prove to the ownership and the fans that he is a proven franchise quarterback. This league is quarterback driven and if the team struggles, then Campbell will be the main fallout.
Albert Haynesworth:
Will the $100 million dollar man improve the Defensive Line. More importantly can he stay healthy for a full season, something he hasn't done since his rookie season.
Zorn and Portis
: With Ladell Betts being the primary 3rd down back, Clinton Portis workload will slightly diminish and should be more fresh during the 2nd half of the season. However, if the redskins struggle to convert third downs this season and Portis becomes angry about it, this will raise questions about the relationship between the star running back and head coach.