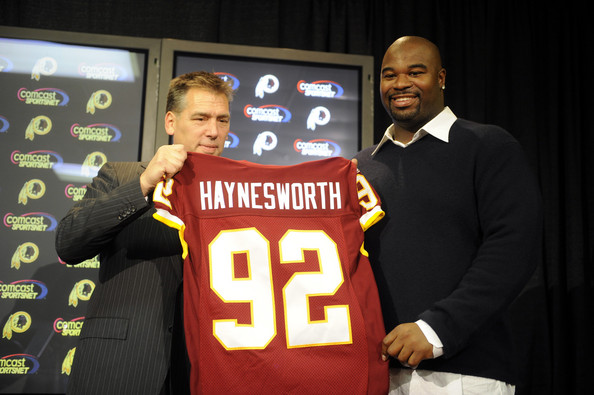 Kind of a slow news day for the Redskins today, but Albert Haynesworth told Jason Reid of Redskins Insider that he expects to make his Redskin debut this Saturday versus the Steelers.
"I'd like to," Haynesworth said. "I like to get in three games [in the preseason]. I like to be at full speed when the season starts, so three games is good for me."
Haynesworth sat out the Redskins' preseason opener last week, a 23-0 loss to the Baltimore Ravens at M&T Bank Stadium.
Haynesworth told me he could have played, but Coach Jim Zorn exercised caution because Haynesworth has experienced minor knee soreness during camp and recently received an injection in his knee.
"I feel fine," Haynesworth said. "I'm ready to play."
This is a great news for all Redskin fans, and although its only preseason, it nice to see a preview of the new $100 million dollar can do to rejuvenate the defensive line. Hopefully, the Redskins to play much better defensively this week, especially in the 1st quarter with all the starters in action. Let's also hope that Clinton Portis stops being lazy about the preseason, and plays a series or two this week.
UPDATE: Jim Zorn said to the media that Clinton Portis will start on Saturday