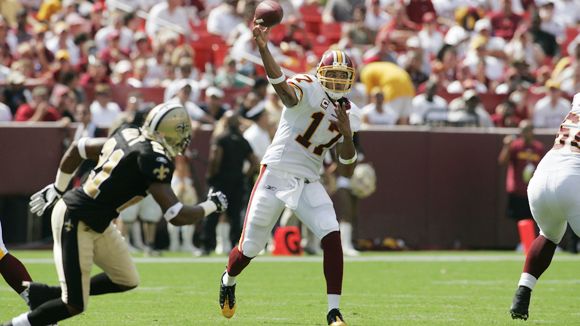 Today, ESPN.com rank the top teams in the NFL based on last year records and the team off season acquisitions. Well, despite the team spending nearly $200 million on free agency, the Redskins are ranked 19th out of the 32 teams. The rest of the rankings of all 32 teams can be found
on this link
.
Clearly, the Steelers and Patriots are ranked 1 and 2 respectively, which is not surprising considering one team is the defending super bowl champion, while the other is returning a future hall of fame quarterback in Tom Brady. Teams ranked 3 through 11 are teams that made the playoffs last season, except Miami because they have a difficult schedule this season.
Honestly, I do see why ESPN ranked them dead last in the NFC East and 19th overall. The team still has not addressed the offensive line issue, and they have a quarterback (Jason Campbell) who might not be with the team after next season because of the way the ownership treated him over the last two months.
But the NFL is a parity league, and there are always surprising teams every season. I'm not gonna say that the Redskins will surprise everyone this year by winning the division or earning a wild card spot, but the skins are in position to that based on the preseason predictions.
I remember back in 2005 that experts from SI, and ESPN had the Skins finishing 5-11 and last place in the NFC East. The team was coming from a 6-10 season, and it was Joe Gibbs first season of his second stint in DC. The team then won five in a row to make the playoffs, and lost the eventual NFC champion Seattle Seahawks in the divisional playoffs.
Then again, most of the O-Line back in 2005 are still with the team today such as Jon Jansen, Casey Rubach, and Chris Samuels. So maybe ESPN knows something that should not surprise us in any form.